Stay ahead of inflation and get the best prices

Stay ahead of inflation and get the best prices
This year 2022, geopolitical and economic instability, together with the monopolies or oligopolies that control certain raw materials, have led to a historic price increase in the chemical sector. Among other factors, the increase in the price of energy has been a critical factor, affecting the entire value chain, from extraction to manufacturing and distribution.
Inflation in the chemical sector from Oct 2021 to Oct 2022 was 26.5% according to the Eurostat Statistics&nbspfor Manufacturers of chemicals and chemical products producer prices in the European Union.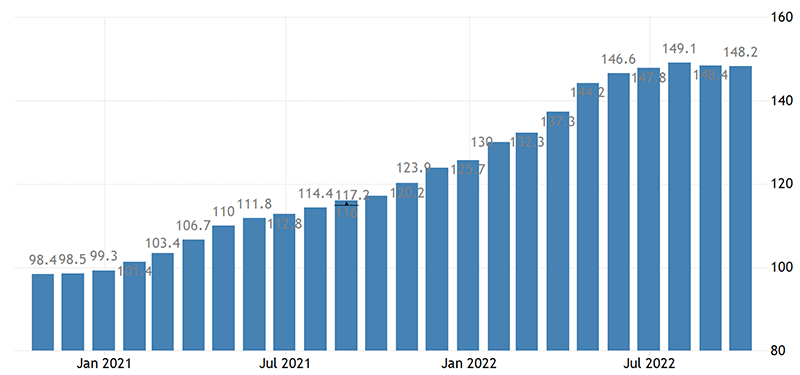 European Union - Producer prices in industry: Manufacture of chemicals and chemical products - 2022 Data 2023 Forecast 2000 Historical (tradingeconomics.com)
Prices reached a record high in July 2022, and since then started a slight descent of 0.6% in October 2022. Total price increase from Oct 2020 to Oct 2022 is an impressive 50.6%.
Our own price evolution forecast for the chemical sector is that 2023 prices will continue increasing. This assessment is based on two main factors:



We have already received 2023 prices from a few suppliers and entail a price increase between 5% to 10% in most products, with an 8% average increase




General inflation in the UE is expected to continue growing by 6% in 2023 according to the European Central Bank macroeconomic projections



Different from 2022, we expect price increases will be applied mainly at the beginning of 2023 with just an additional 5% price increase over the year, with a high variation, meaning that some products may reduce prices and other will continue increasing prices at a 100% rate. The strong financial crisis affecting 2023 and probably 2024 will impact on the demand levels, and thus the offer is expected to adjust lowering prices. This price reduction trend will be balanced by the steady increase in energy prices, cost of finance increase and exchange rate variations of the Euro against the main currencies.
As in 2022 we foresee unexpected/black swam events that may strongly impact the global economy. These could be related to the Ukrainian war or in other unknown/unexpected areas, and may strongly affect the above forecast.
In CymitQuimica we work to maintain the prices of our products as low as possible through negotiations and adjustments that allow us to soften the inflationary trend. As an economic agent in the chemical and pharmaceutical sector, CymitQuimica is exposed to inflationary trends and specifically to the price variations of our industrial and logistic partners.
In order to achieve significant savings in the purchasing budget, we encourage you to make your purchases before the end of the year and to schedule deliveries in 2023.